It's springtime here in Barrie, ON and your most trusted carpet cleaner Sir Clean Pro has new tips on carpet cleaning for you. Since many pet owners will be taking their pets out more that means one thing – dirty carpets.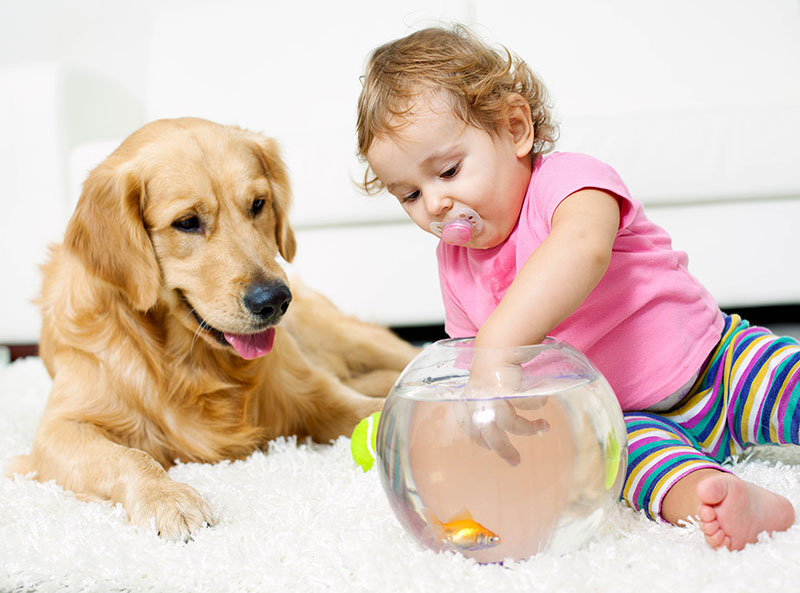 Pets are responsible for bringing us lots of joy, but they can also be a source of frustration. Pet owners regularly struggle with cleaning after pets and keeping their susceptible home surfaces free of animal hair. No spot in your house takes more of a beating in this regard than your carpets.
Keeping carpets clean should always be an ongoing process, especially in the case of pet owners. This process begins with vacuuming. Vacuuming your carpets is a good start for getting pet hair out, but sometimes the hair becomes intertwined in the fibers, making it difficult to remove. Vacuum cleaners often have appendages and attachments that can be used on different surfaces. We recommend using one of your vacuum's attachments on your furniture's upholstery as well, as pet hair can become attached or embedded in the fabric. For hair in the carpet and upholstery that the vacuum cleaner can't reach, we recommend going over the affected areas with a lint roller or strip of duct tape.
One preventative way of keeping pet hair out of your carpets is by investing in a bed or blanket for your pet to sleep on. This way, your pet can shed a lot of its hair in one easily manageable area. Once you're ready to clean the bed or blanket, simply take it outside, shake as much of the hair loose as you can and throw it in the washing machine. This method won't keep your carpets 100% free of pet hair, but it will help alleviate the pressure put on your vacuum cleaner.
Not only do pets shed like crazy, but their presence also puts your carpets at higher risk of stains. Accidents happen, unfortunately, and the most you can do is to be prepared and act quickly. This last point can't really be emphasized enough – the sooner you get to the stain, the better. When you notice a pet has peed or vomited on your carpet, you might be tempted to blot with paper towels or even stand on those paper towels in order to absorb the stain quicker. Doing so will force the liquid deep into your carpet's padding. With enough pressure, you will push the liquid into the subflooring, causing permanent damage.
To combat stains, first blot with a clean, white cloth. Once you've absorbed as much moisture as you can, apply some soapy water on the affected spot. Blot with a dry, clean towel before switching to a towel dipped in soapy water. Switch back and forth between the dry and damp towel until the spot is gone.
After you've cleaned the stain, invest in a good odor neutralizer for urine stains. There are many different neutralizers available at your local pet store. You can also create a solution made from vinegar and water, place it into a spray bottle and mist the affected area. Once you mist the area, let it sit for a few minutes before blotting it dry. This assists in odor and stain removal.