Nobody likes to look at dirty grout, especially on a wall or floor of clean, pretty tiles. Sometimes, we go ahead and try and clean things, but we find what needs to be cleaned is much dirtier than we thought, and so we must resort to some heavy-duty actions. When a simple or commercial cleaning solution isn't enough to get the rid of all that dirt and grime, there are some more intense routes you can take to get your grout looking clean and new.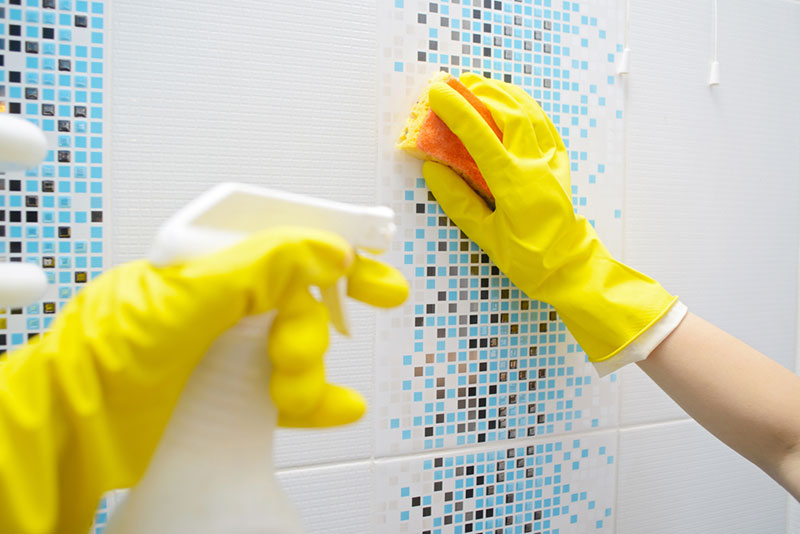 For badly stained grout that's especially dark and hard to clean, we recommend using scouring powder. You can find some in the cleaning aisle at your local supermarket, or you can easily make some at home. To make scouring powder at home, combine equal parts salt, borax cleaner and baking soda. Scrub the grout with an electric toothbrush or thick-bristled nylon brush dipped in the scouring powder. Let the solution sit on the grout lines for five to ten minutes. After, rinse the surface clean using warm water. Apply more scouring solution and repeat as needed, until your grout looks fresh and clean.
If the stains persist, you can always try something a little more heavy duty. We recommend creating a cleaning solution made from 50% liquid chlorine bleach and 50% water. Use a sponge to lightly apply the cleaning solution to the grout lines, then wait ten minutes. Next, use the sponge to soak the grout even more with your bleach-water cleaning solution. Wait ten more minutes before rinsing the surface with warm water. Go over the grout lines with a clean washcloth to remove any residue or leftover dirt.
If none of these suggestions are working for you, there's a third technique that is effective, but requires a bit of an investment. Consider renting or buying a steam mop to clean the dirt and grime from your grout. Steam clean mops act similarly to steam carpet cleaners, using steam and hot water to blast dirt and grime from tile floors. The pressure made by the machine lifts dirt out from within the grout, leaving your floor looking like it was professionally cleaned or newly installed.
When choosing a steam mop, you want to make sure it can reach 347º F (175º C) and apply significant pressure. Using the steam mop is easy; all you do is direct the steam through the nozzle, and guide the nozzle up and down your grout lines. Some steam mop models include a soft bristled brush to wipe away any leftover residue, but if not, use an old toothbrush to clear away any loose dirt left behind. Hoover and McCulloch make powerful steam mops that are relatively affordable.
There are many different ways to tackle the task of cleaning dirty grout. If any of these solutions don't work for you, it's recommended you hire a professional cleaning service to tackle this task for you. Even if you were able to clean your grout and tiles and make them look brand new, it's never a bad idea to hire a professional to clean your home once or twice per year.