Using harsh chemicals with complicated names to strip stains and odors from your carpet is good for neither your home, your family, nor the environment. These chemicals can get into the air and cause damage to your and your family members' eyes and respiratory systems. Instead, use baking soda to remove carpet odors caused by anything from spilled food to pet odors or years of heavy foot traffic.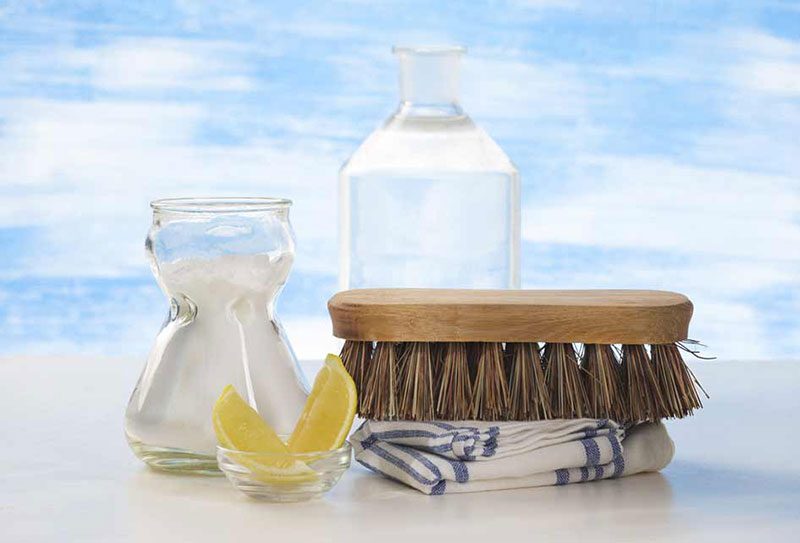 Before deodorizing, be sure to vacuum your carpets thoroughly and completely. We start by vacuuming our carpets so that we can pick up all dirt particles before we begin deodorizing. This way, you start deodorizing with a clean carpet, yielding the freshest results possible. When vacuuming, focus on heavily trafficked areas such as doorway entrances and spots around where people sit. Take advantage of your vacuum's attachments to clean any hard-to-reach places, such as the space between the carpet and the wall.
Once you've vacuumed the carpet and you're sure it's clean, let your family know what you're doing and ask them to kindly not walk on the area you're treating until you're done and it's clean.
Next, sprinkle baking soda very liberally over the affected area. You want to cover the carpet completely. Don't be cheap! Baking soda is harmless, so more is best. Since baking soda tends to clump up, consider transferring it to a shaker before applying to your carpet; this way, the baking soda will distribute more evenly across the carpet. Remember to use fresh baking soda rather than a box that has been sitting open. The fresher the baking soda, the more smells it will be able to absorb.
Now it's time to scrub the baking soda into the carpet using a sponge or brush. Make sure it gets deep into the fibers of your carpet and all the way to the bottom. If your carpet is long or shaggy, this is a particularly essential step. Make sure every part of the carpet is coated with baking soda. An old sock or t-shirt also works for rubbing the baking soda deep into your carpet.
Let the baking soda sit for at least 24 hours. The longer you let the baking soda sit on the carpet, the better and fresher your results will be. Don't walk on the affected area for as long as the baking soda is sitting, as it will get tracked through the house and your end result won't be as fresh.
Finally, use a dry vacuum cleaner to suck up the baking soda. Be sure to go slowly and apply pressure. Work in small sections, and go over each section several times. The baking soda is going to take time and effort to clean up, but as long as the carpet doesn't get wet at all, it should get sucked right up with no problems.
Once the carpet is vacuumed, get on your hands and knees to inspect. Any areas that don't come out as fresh can be spot treated. Create a solution made in a 3:1 ration with warm water and lemon juice. Spray the affected area with a little bit of solution and let dry. Continue this process until the affected area is clean.